Author Archive
Lindsay Lohan Has a Super Soaker; "Damn You Oprah"
Published on Friday, 07 March 2014 11:28
Evan Ross Katz

0 Comments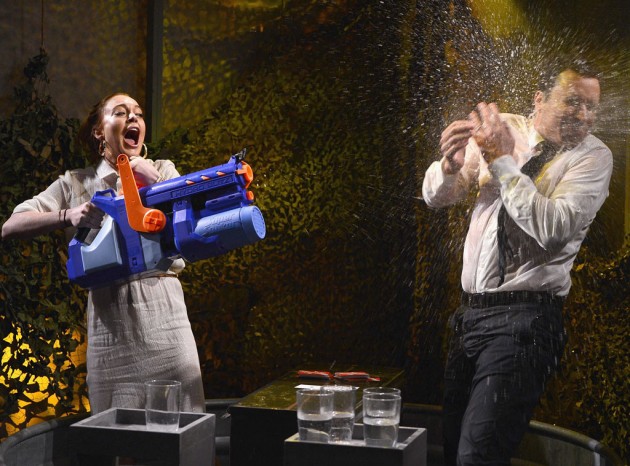 "Why is this happening?" demanded a drenched Jimmy Fallon.
"Because I have OWN on my side," Lindsay Lohan coolly replied.
If the acronyms escape you, OWN (Oprah Winfrey Network) is the host of Lohan's eagerly anticipated docu-series, airing this weekend. In fact, Mama Oprah herself appears in the trailer released earlier this week, telling LiLo to "cut the bullshit."
To prep for what many hope to be a sizzlingly hot mess (verdict: too early to tell, but probably), the actress appeared on the still-as-good-as-premiere-week Tonight Show Starring Jimmy Fallon last night. Tina Fey was backstage (it was amazing), but the real highlight of her visit was a game of Water War (just like the card game war, but with water). Five cups of ice cold water. The first to win got water canon privileges.
A sprightly Lohan began the game with a selfie before she took her first cup to the face. From there, "damn you, Oprah," Lohan's winning streak began. Finishing it off, "I think Oprah needs to play this game," the actress giggled to a soaked Fallon, before mounting the water cannon. As must-see's go, this is Friday's:
Images courtesy of NBC.
Scott Eastwood's Top Ten Insta-Moments of 2014 (So Far)
Published on Thursday, 06 March 2014 10:35
Evan Ross Katz

0 Comments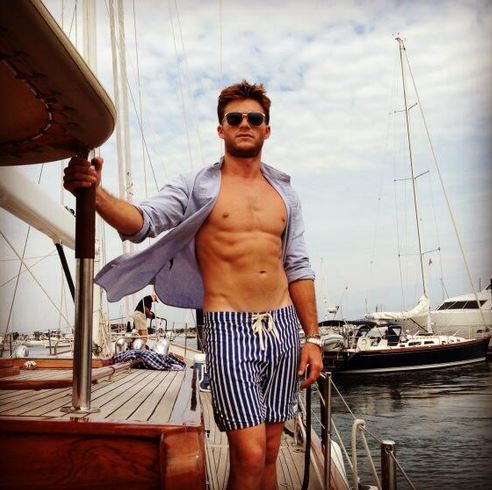 Not familiar with Scott Eastwood (yet)? Congrats, you're part of a slowly fading majority that will soon embrace the youthiest of the Eastwood boys. At 27 years old, he's following in his dad's (Clint Eastwood) footsteps appearing in flicks Gran Torino and Invictus. But it's not a daddy's little boy scenario entirely, 2014 will see Eastwood starring alongside Brad Pitt, Shia "I'm not famous anymore" LaBeouf, and Logan Lerman in David Ayer's Fury. The actors most noteworthy credit to date, however, might be his February 2014 cover of Town & Country, which placed him at the apex of its "Top 50 Bachelors." We decided to creep his Instagram and find his ten best moments from the year so far (in chronological order by date). Here's what we came up with:
10.
Eastwood might have started 2014 off with a bang, debuting his cover of
Town & Country
's Top 50 Bachelors Issue, but he earned bonus points by revealing that he "love[s] Katy Perry and Rihanna." This likely incited sex between the three, because that's what famous people do, right?
9.
"My pops holding his parrot while we watch the 9 er game. #stillachamp". The fact that Clint Eastwood owns a parrot is worthy of a pregnant pause. The fact that his son snapped a photo of his "pops" holding the guy while the the three of them watched some football… might join the ranks as some of the most American imagery this decade has produced.
8.
Slap "Visit Park City" over this picture you might as well. Park City, Utah reported tourism was up 300% the day after this photo surfaced online (that's not true).
7.
"Broken board, sun burnt, and all smiles. Love my new rip curl wet suit. #mexico #tow #bajamalibu." Instagram user #yourgameisinsane commented: "@scotteastwood stop burning my underwear ! You 're so hot." So there was that.
6.
Rocking a
Cali's Finest
 shirt + hat and a full glass of "vino, baby", Eastwood shows off his ultra-clean kitchen. The basketball game in the background: a nice touch.
5.
When you're buddies with Gerard Butler, as Eastwood clearly is, you get to call him Gerry in your captions. That, plus you get to hang with him at Hugo Boss shows during New York Fashion Week. It's not a bad life.
4.
About that La Jolla life, Aquaman (AKA Eastwood) kicked off this late February morning with a quintessential (read: not at all quintessential) "morning dive." His signature brood in tact.
3.
The actor ended his February by bringing out the big guns — muscles 
and 
a puppy — giving Eastwood his highest "like" count to date and earning him legions of new fans who previously knew him only as Clint's son and now know him as Clint's son… with this big guns and adorable puppy.
2.
Attending the UCLA/Oregon basketball game on February 28th, Eastwood is mugging à la Colton Haynes (it's sort-of an eternally baffled expression that hints at an inner peace with not understanding).
1.
Finally, a family shot! "Family dinner. 3 of my sisters and my brother. And who is that good looking guy? My pops. The man, the myth, the legend." Let's be honest, the Eastwood clan ain't a bad looking group.
Image courtesy of Town and Country and Instagram.
One on One with Golden Boy, Tom Felton
Published on Wednesday, 05 March 2014 13:54
Evan Ross Katz

0 Comments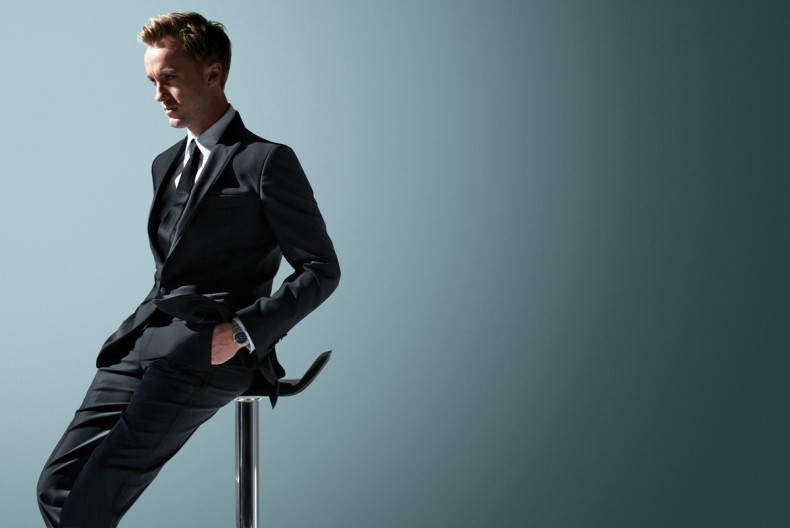 I was given 40 minutes with British actor Tom Felton for our interview in the February/March issue of the print magazine (out now!), and while I was happy to keep the focus on Harry Potter and Felton's upcoming projects for the print edition, I had a lot of other, equally important questions that there simply wasn't room for. Questions about his Instagram, if he'd ever do a Broadway show, what he really thought of his new home in Los Angeles, what kind of food he ate, the list goes on and on—and on a bit more; I had a lot I wanted to know! Luckily, he's the friendliest and was more than game. And so it went…
Evan Ross Katz: Did you always know you wanted to be an actor growing up?
Tom Felton: Not per se. It wasn't something I was actively chasing. I used to enjoy going to the theatre with my parents and my brothers. My older brothers were part of an amateur drama group, so I'd watch their shows as a kid, and naturally it became something I wanted to do. The main thing that drove me as a child was that I enjoyed doing it. No matter what the role, TV or theatre, I really enjoyed the whole process.
ERK: Correct me if I'm being presumptuous, but perusing your Instagram, I would picture your perfect day to include your dog, Timber, a few rounds of golf, and… give me a third thing.
TF: I noticed that recently. I was flicking through some of my lasts posts and it's literally dogs and golf. I'll try and mix it up for you, Evan, don't worry.
ERK: Thank you.
TF: I love the outdoors, so probably a fire. I love to sit outside with a nice fire.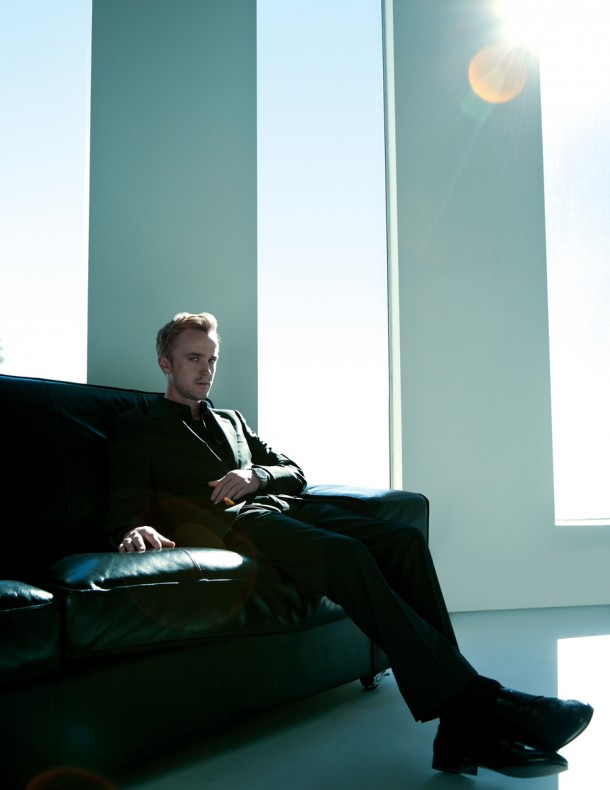 ERK: Are you living in LA at the moment?
TF: Yeah, I just moved here. It's beautiful so far, especially this time of year. Back home in London, it's a little more chilly, so I'm very happy to be on this side of the pond.
ERK: Can we do the "biggest difference between LA and London" question?
TF: In my experience people are a bit more outgoing in LA. There's much more of an outdoor lifestyle. The weather seems to breathe happiness. Not to say there isn't that in London—there certainly is—but it's just a different lifestyle out here that I really enjoy.
ERK: What about food?
TF: Well this is going to sound terrible, but the In-N-Out Burger is definitely my favorite lunch spot. Definitely a reason to come to California.
ERK: Might we get some new music in 2014?
TF: I'd like to think so. I'd like to think I'm always tinkering and working on stuff. It's just a case of 'if I get the time and the right place and the right people to record it.'
ERK: Who would be some of your dream artists to collaborate with?
TF: I'm not sure if I'm in the realm of collaborating with any of these people but I enjoyed the new John Mayer album, the new Jack Johnson album, [and] loved the new Eminem album. It's quite a varied group there. I'm not sure what the four of us would sound like if we dove forth with it…
ERK: Only one way to find out.
TF: Right. If you can hook it up, I'm in.
ERK: Does one ever get used to the flashbulbs?
TF: It was awkward as a child and it's still pretty awkward now—just standing there with this enormous smile on your face while a billion flashbulbs go off. It's not something you get used to. Every year when I get lucky enough to go to a new city, promoting something or rather, I'm always surprised to see how far the Harry Potter films have reached. All across America, Canada, South America, it doesn't seem I've been anywhere where people don't know about the films, which is incredibly humbling.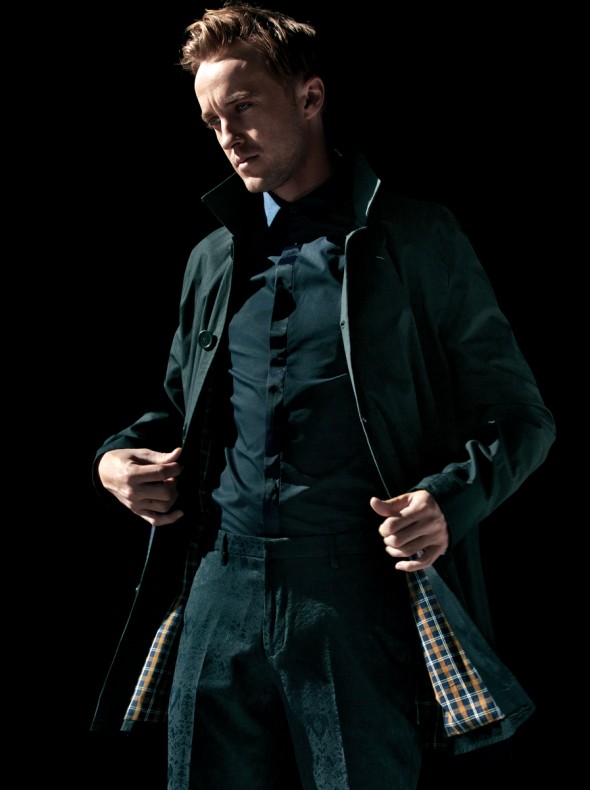 ERK: You worked with acclaimed playwright Neil LaBute on his first TV venture, Full Circle, do you have any aspirations to do Broadway? Would you consider a musical?
TF: Yeah, definitely. It's not in my immediate focus or drive, but that's how I started, doing theatre, so it wouldn't be something that felt too unnatural to me. I'd love to do [one] if it's the right one.
ERK: Do you have a favorite?
TF: Jersey Boys is the one I've seen the most. My girlfriend and I are big fans of that music. Also Blood Brothers. It would be a dream come true to be in that.
ERK: Do you have a guilty pleasure?
TF: My girlfriend's guilty here as well, she kind of lured me into it, but you know trash TV—like those terrible reality TV programs that you seem to be able to watch for hours that actually say and do nothing?
ERK: I'm quite familiar. Do you have favorites among them?
TF: The Hills is one of them over in England that's big. I always say I don't enjoy watching it, and then I'm there two hours later still watching, so I don't really know how to explain it.
ERK: What are your 2014 resolutions?
TF: Resolutions, good call. I haven't given it any thought. Can you give me some inspiration?
ERK: I have no idea. I might do a gluten free situation for a month. Sounds incredibly dire, though.
TF: I might do something like that as well. A friend of mine cut out bread and pasta, so I might follow him or try some radical new food diet for a month. I'll do it with you, Evan, and we can see how we're both doing.
ERK: Perfect. Oh, and like 2013, I am going to try and divorce myself from the trashy TV.
TF: Good call. We should do that together, too. At least cut it down to an hour a week.
ERK: Deal.
View the rest of the editorial and read the complete interview in our February/March 2014 issue, available now!
Images by Karl Simone. 
The Efron/McConaughey Reunion You Didn't Know Your Tuesday Needed
Published on Tuesday, 04 March 2014 15:59
Evan Ross Katz

0 Comments
You might remember
The Paperboy
 as the film that featured Nicole Kidman simulating some
very
gesticular fellatio, or the film in which Matthew McConaughey got raped and tortured by a group of men (spoiler!), 
or
the film where Zac Efron danced in his tighty whities in the rain. Or… you might not remember it at all. In the time since the movie's release, the high profiles of both its male stars have only sky-rocketed higher and higher (crescendoed by McConaughey's Oscar win on Sunday). So it's only fitting that during Sunday's award ceremony, Efron, a presenter, caught up with his old buddy for an Instagram opportunity. In the picture above, Efron appears to be giving off some serious brood, while McConaughey looks just the right amount of lit. The black and white filter: a nice touch though.
Watching Celebs Eat Pizza at the Oscars is Strangely Captivating
Published on Monday, 03 March 2014 10:36
Evan Ross Katz

0 Comments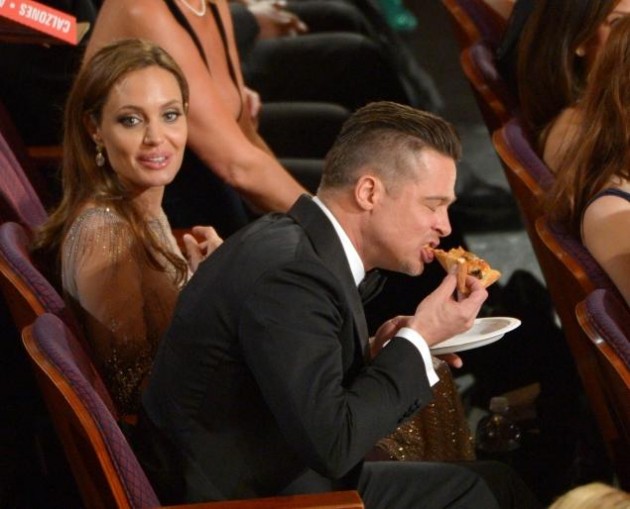 If you happened to have missed any of the 3.5+ hour 86th Academy Awards last night, you have nothing to worry about today, because the internet assures you that it has got you covered (echo: covered, covered covered). There's a lot to digest, and we're not just talking about stand-out moments like Liza Minnelli getting shut out of the most retweeted selfie of all time (currently topping out at 2.6M retweets) or Adele Dazeem-gate or Jared Leto's hombre. Seriously, so much happened yesterday. But back to the digestion transition… If you haven't already heard, host Ellen Degeneres ordered pizza for attendees, and it wasn't a "you get a car and you get a car" situation. Just three boxes.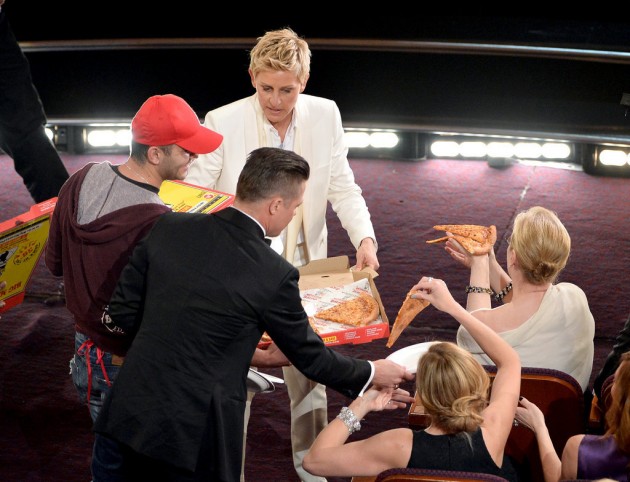 But the meal wasn't just satisfying for the stars that partook, like Meryl Streep (two slices), Channing Tatum, and Jamie Foxx's daughter (*record scratch*), but for us at home as well. And why? Not only did we not get any sauce stains on our custom Pradas, but we got to watch star's like Martin Scorsese, Julia Roberts, and Brad Pitt (the frontrunner) munch. And satisfying it was.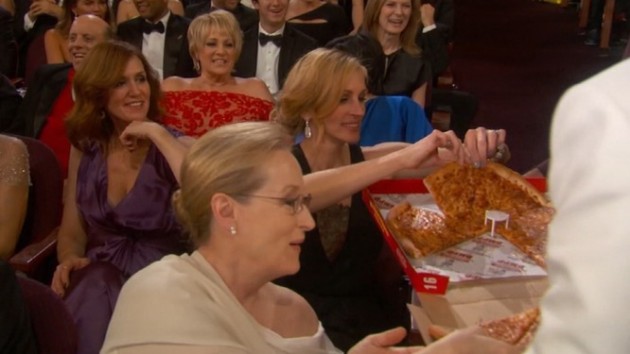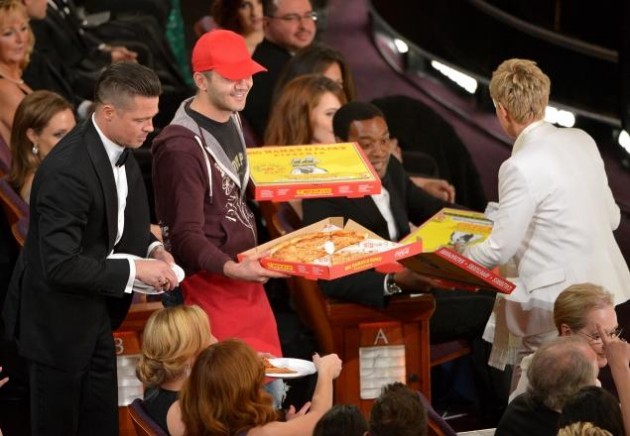 Meanwhile…
Images courtesy of John Shearer and Instagram.